| | |
| --- | --- |
| Posted by tencountrychallenge on October 19, 2013 at 7:40 AM | |
I had met up with Ritje in Antwerp last year. Her husband had MSA and passed away from it four years ago. She manages the MSA-AMS.BE Association. Ritje is such a fantastic lady, doing so much to help those with MSA in Belgium and now further afield. 
The non-profit organization MSA-AMS.be was founded in 2008, first as a 'Factual association' by JiePie SCHOUPPE and Ritje SCHOUPPE - MOONS.
27th of September 2010 it became officially 'MSA-AMS.be VZW' a legal non-profit organization, (published in 'Belgisch Staatsblad': Belgian Official Journal 08.12.2010) by a group of patients and their relatives. The year before, these people answered a call of JiePie SCHOUPPE, a MSA patient. They all needed correct information, help and coordination concerning MSA care could offer.
The organization addresses to all Belgian MSA patients. The management is only made up of MSA patients or their family members having the advantage that they know the disease and its direct and indirect consequences very well.
I had promised Ritje that we would call in as Antwerp is almost on the way back to Calais. This year we met up with her and her good friend Mich and had a photoshoot with the Lord-Mayor of Borsbeek, Dis Van Berckelaer.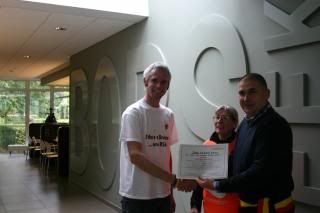 It was a privelage to meet him. Thank you to Ritje for a lovely morning and for lunch too.